The first camping trip in autumn, Watching the beautiful sunset by the river is beautiful!
Take advantage of the high autumn weather in CA now, it is super suitable to go camping!
We chose a campsite by the river which is less crowded and super beautiful!
The space is spacious and the clean and tidy grass makes people feel extra comfortable
The 180-degree river view was beautiful, and there were occasional boats passing by, with
The beautiful sunset is especially nice.
There is also a canopy, tents, tables and chairs are equipped, completely free your hands.
You can also bring your own equipment and fish by the river It's also quite comfortable.
About the food
There are afternoon tea, Korean barbecue, hot pot, and sukiyaki.
The food is very rich, and it is absolutely in line with the fresh ingredients.
The price is also more cost-effective than other camps
For us lazy lovers, it's a great relief.
Simple cooking without any skills, chatting while eating
It was fun
The tents here can also be used for overnight stays and are equipped with air conditioning.
The housekeeper was very nice, very enthusiastic to take care of us.
She also gave us a great location to shoot the sunset.
Sense four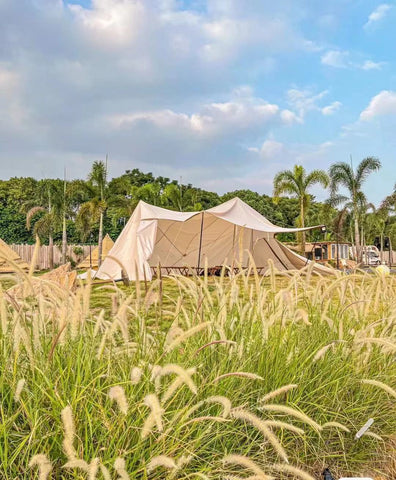 Camping tips
1 dress convenient recommended undershirt jacket boots, especially out of the film
2 mosquito shoot water with a belt (housekeeper sister gave us her private mosquito
stickers)
3 small game: we brought a small mahjong in the heckling finished a large night
on. Flying chess, poker, board games are also quite good
4 pick a good weather time, the sunset really unbeatable look.